workshops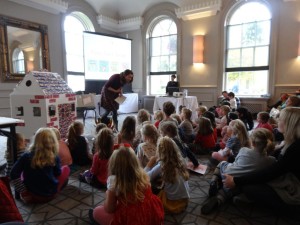 I enjoy running creative, curriculum-linked events for schools, libraries and festivals. My latest workshops include:
How To Change the World (8+)
A non-fiction writing workshop based on my Royal Society Young People's Book Prize-shortlisted title
Self-Destructing Science (7+)
Hands-on science with a twist, to entice reluctant readers and reluctant scientists!
Explore the World (and come back alive) (6+)
Children compete in teams, and learn to write like Captain Cook
How to Be An Eco Hero (5+)
Follow the instructions to save the world…
City Safari (4+)
For non-writers and beginner writers, make your own naturalist's notebook
Fairytales with a Twist (4+)
My sold-out Cheltenham Literature Festival event, full of storytelling, acting and crafts… and a life-sized gingerbread house!
I also run workshops for grown-up writers on planning, writing and pitching non-fiction.
I'm happy to tailor talks and workshops to a particular theme or text type. Please get in touch to find out more about these fun, interactive sessions. Email: isabel@isabelthomas.co.uk
Testimonials
"Pupils enjoyed a VIP visit from author Ms Isabel Thomas, on World Book Day, who ran inspirational workshops and activities with the girls. Pre-prep pupils were captivated with story-telling and an enormous gingerbread house." http://www.stmaryscambridge.co.uk/Book-Week
– St Mary's School, Cambridge
"We thoroughly enjoyed having you, and the children (and teachers) had a great time."
– Josephine Briggs, Kingshott School, Hitchin
"Even some of my reluctant writers have shown renewed enthusiasm for writing since."
– Charlotte Honour, St Peter's School, St Albans
faqs
coming soon…