Self-Destructing Science
Bloomsbury, 2016 • 64pp
Newsflash: Self-Destructing Science: Space has been shortlisted for the ASE Science Book of the Year Award 2017!
It was also chosen for The Phoenix Comic Book Club, which described it as 'THE activity book for the summer!"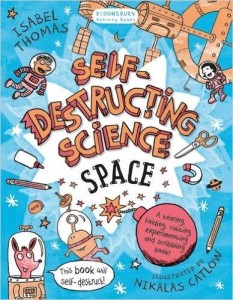 Warning: this book will self-destruct! Packed full of fun and exciting projects which use its pages in different ways, Self-Destructing Science will have you tearing, folding, cutting, experimenting and scribbling as you find out all about the wonders of space.
As each page is destroyed, you'll make everything from a Martian bug to a pocket rocket, using the pages of the book and a few simple household items. The easy-to-follow instructions and amazing illustrations mean that science has never been so fun!
Download a sample activity pack here!