about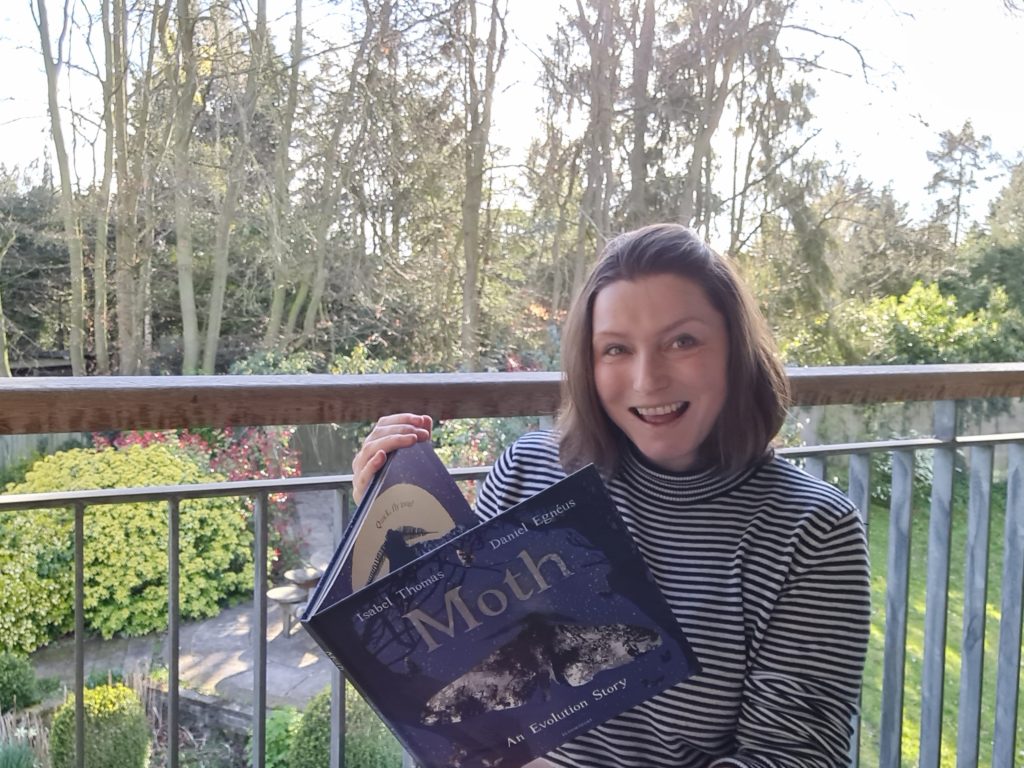 Hello! I'm Isabel Thomas, a science writer and children's author. I've written more than 180 books about science and nature for young audiences, which have been translated into more than 20 languages. I am a winner of the AAAS Subaru SB&F Prize for Excellence in Science Books 2020, and have been shortlisted for the Deutsche Jugendliteraturpreis 2021, the Royal Society Young People's Book Prize, the Association of Science Education Book of the Year, the English 4–11 Picture Book Awards and the Blue Peter Book Awards.
I also write features for children's science magazines Whizz Pop Bang and The Week Junior Science+Nature, and create content for science outreach projects, including the Wellcome Trust's Explorify resource, www.dementiaexplained.org and Oxford University's Parents for STEM Futures project – inspiring children from diverse backgrounds to pursue science careers.
My critically-acclaimed picture book Moth: An Evolution Story, illustrated by Daniel Egnéus, won the AAAS Subaru SB&F Prize for Excellence in Science Books 2020.  It was also nominated for the Kate Greenaway Medal and was named a book of the year by the Financial Times and Books for Keeps in the UK. The US edition of Moth recieved an amazing FIVE starred reviews from Horn Book, Booklist and Foreword among others, and was named a book of the year by The Horn Book, New York Public Library, Chicago Public Library and the National Science Teaching Association.
My lastest books include Exploring the Elements: A Complete Guide to the Periodic Table, illustrated by Sara Gillingham and published by Phaidon. It was named a gift book of the year by Waterstones in the UK, and the New York Times and Wall Street Journal in the US.
I love speaking at festivals, schools and other events. Recently, these have included the Cheltenham Science Festival, Bournville BookFest, the Oxford Literary Festival, Paris Book Fair, Wimpole History Festival, Emirates Literature Festival Dubai, The Naked Scientists, BBC Cambridgeshire, and two appearances on BBC Women's Hour.
If you'd like to work with me, please get in touch at [email protected] or with my agent Kate Shaw.
my background
My childhood was at times very tough, and I'm happy to share this with young audiences, as publishing and writing is still dominated by people from very privileged backgrounds. This Bookseller article is a good summary of the issues. I want to show young people and others from disadvantaged backgrounds that it's possible to break into science, science writing and writing for children, and that our voices and talents matter. I grew up in a low income, single-parent family and attended five state schools in Devon and Oxfordshire, doing A Levels in Biology, Chemistry, Maths and Physics before winning a place to study science at the University of Oxford, where I studied Engineering Science and then Human Sciences.
While I struggled with the culture shock at first (it was dominated by privately educated students at the time, as publishing still is today) I became very involved in student journalism, rose to Deputy Editor of the student newspaper and discovered a love of writing. After university I didn't have a clear idea of what to do next, as my family didn't know people in professional jobs, and I couldn't afford to do the unpaid internships necessary to break into journalism at the time. But over the next decade I gradually found my way into a career that combines my two loves – science and writing!
Publishing can still feel a tough industry to be in, but my childhood gave me two things that have helped me make a success of it – a tough skin and an absolute determination to prove myself and do my mum proud. One of my favourite editors described me as 'relentlessly enthusiastic' – basically I just refuse to give up! That's my top piece of advice to other writers.
Recently, I got the chance to do something that I couldn't afford in my 20s – a research MPhil at the University of Cambridge. My research explored the integration of science, literacy and the arts in education and its impact on widening access to science.
Today I live near Cambridge, UK with my husband, three young children (who are guinea pigs for all my books and science activities) and two skeptical guinea pigs (who are no help whatsoever!)
quick links
Listen to me speak about my book Fox: A Circle of Life story, and how I dealt with losing my only parent at a young age on BBC Woman's Hour
Listen to me speak about my journey into writing on the brilliant podcast Jo Durrant's Beautiful Universe
Watch my vlogs on Outdoor Learning for Oxford Owl
Read my contribution to the British Science Association's Science: Not Just for Scientists campaign
Watch my films on fun learning activities for Oxford Owl
Read my advice for aspiring non-fiction writers for Writers & Artists
Read my tips for encouraging reluctant readers
Read my tips for firing up children's non-fiction writing power
who i write for
Alzheimer's Research UK • Bloomsbury • Cambridge News • Collins • Curious Fox • Dorling Kindersley • Little Gestalten • The Guardian • Hodder Wayland • Ladybird • Laurence King • Lonely Planet • Macmillan Children's Books • Oxford Education Blog • Oxford Owl • Oxford University • OUP • Pearson • Penguin • Phaidon • Project Wild Thing • Quarto • Rising Stars • Raintree • Scholastic • The Week Junior • Wellcome Trust • Whizz Pop Bang! • Wren & Rook
If you'd like to work with me, please get in touch at [email protected] or with my agent Kate Shaw.