festival and school events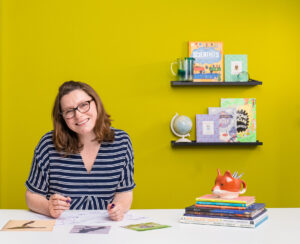 I love bringing science to the stage and screen in live events for schools and festivals. In the last few years I have appeared at Cheltenham Literature Festival, Cheltenham Science Festival, Oxford Literary Festival, Bourneville LitFest, Wealden Literary Festival, Linton Bookfest, the AAAS Annual Conference and on BBC Woman's Hour. I have also held virtual events for Donegal Co Libraries, Waterstones, bookshop.org and Greenlight Bookstore NYC and for the Emirates Festival of Literature.
I also run an online, low-cost course for writers, illustrators, teachers and scientists who would like to turn a great idea into a non-fiction book proposal. Find out more here.
Please email [email protected] to book a virtual or in-person visit, or read on to find out more.
Author workshops in schools
I love running creative, curriculum-linked events for schools, libraries and festivals.
I offer full-day or half day visits, starting with a 30-minute assembly and moving on to interactive workshops that integrate science and literacy learning.
Moth / Fox workshops
If you school is using Moth and Fox as part of your curriculum, this is the workshop for you!
Students will learn how I go about researching and writing a lyrical non-fiction book, meet some real-life caterpillars with superpowers, and craft their own scientific poetry.
One Million Insects
This workshop grew out of my work with the outreach team at the Darwin Tree of Life project, and my book One Million Insects.
Students will learn all about the mindboggling insect multiverse and hone their non-fiction writing skills by borrowing tricks from scientists and artists.
Exploring the Elements
A fun introduction to chemistry and the building blocks of matter, asking – how can we write about things we can't even see?
Based on my New York Times book of the year, Exploring the Elements.
Science Writing Bootcamp
A fun, fast-paced workshop designed to inject energy into students' non-fiction writing, based on a wide range of my books and science writing.
Students develop their own ideas for attention-grabbing non-fiction, and learn how to overcome the dreaded blank page.
Impossible Questions (from Autumn 2022)
Learn why silly questions lead to the BEST science (and writing) in a brand-new workshop based on The Bedtime Book of Impossible Questions.
Testimonials
I'm happy to tailor talks and workshops to a particular theme or text type. Please get in touch to find out more about these fun, interactive sessions. Email: [email protected]
"Both my sons were delighted to hear you talk at St Augustines, Camberley this week. You made it all so interesting and I have heard about nothing else for two days."
– Parent, St Augstine's Catholic Primary School, Camberley
"We had a great time having you during those two days. All teachers offered great praise about the workshops, your visit and the ideas for writing you left with us. We were delighted that a lot of our children felt excited about reading and buying your books and spending time with you. The only complaints I have received were that it was too short, that they wanted you for a longer period of time. I felt the same way! I wish we could have had you for 4 days. I have bought some books for my classroom and there are some arguments about borrowing (music to my ears!)."
– St Augstine's Catholic Primary School, Camberley
"The kids absolutely loved it and certainly felt inspired to hear how you became a writer (one of our SEND boys created his own book right away about space after hearing you talk). We were also impressed by your knowledge about science with all our silly science questions"
– Mosborough Primary School, Sheffield
"I just wanted to say a huge thank you for your time at Stroud yesterday. The children were all completely enthralled by your workshops and blown away by your impressive subject knowledge! They really took so much away from your sessions."
– Stroud School, Romsey
"Thanks so much for the really super event on Wednesday. Everyone seems to have had a wonderful time and we've had some lovely comments left in the comments book. I really appreciate you having run this for us – it's easily been our most popular summer event so far!"
– Cambridgeshire Libraries
"We thoroughly enjoyed having you, and the children (and teachers) had a great time."
– Kingshott School, Hitchin
"Even some of my reluctant writers have shown renewed enthusiasm for writing since."
– St Peter's School, St Albans
Do you have any advice for reluctant readers and writers?
I've written lots of blogs and vlogs for Oxford Owl sharing my tips for encouraging children to find joy in reading and writing – often through science and nature! Here are some links:
Do you have any advice about writing for children?
I run an online, low-cost (typically <£20) course for writers, illustrators, teachers, scientists and anyone else who would like to develop great ideas and craft a non-fiction book proposal. Find out more here.
You will also find my advice in the Children's Writers' & Artists' Yearbook, which is a treasury of information and support: Writing adventures in the real world: children's non-fiction.
I've also written two blogs for their website: