Exploring the Elements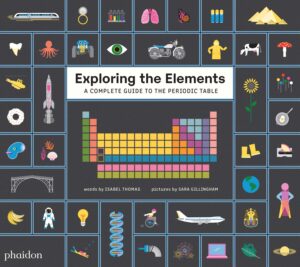 Phaidon, 2020 • Illustrated by Sara Gillingham
Science meets design in this comprehensive introduction to the chemical elements that make up our universe.
Kirkus STARRED review: "★ Could make a chemist out of anyone."
New York Times Recommended Gift Books 2020: "This comprehensive, deeply informative educational resource doubles as an arty coffee-table book, the kind science-minded readers and fact-finders love to pore over."
Waterstones Recommended Gift Books 2020: "A marvel of both accessible scholarship and graphic design, Exploring the Elements provides children with a vivid guide to the periodic table and the endless possibilities of chemistry."
Booklist STARRED review: "★ A scientific catalog as elegantly organized as the periodic table deserves a book to match, and this smart and stylish guide is just that, breaking down a potentially overwhelming amount of material into beautifully bite-size bits that give each element its due….Thomas has an obvious affection and admiration for the subject, and the excitement carries over into the text….Truly an exceptional introduction to the periodic table and all its wonders."
Wall Street Journal Recommended Gift Books 2020: "A stylish guide to the periodic table. . . Jolts of vivid color, sharp design and lively explanatory text will help readers ages 7-13 wrap their minds around the characteristics of the foundational chemical elements, the forms they take and the uses we make of them."
BBC Science Focus BOOK OF THE MONTH: "Isabel Thomas takes us on a journey through (or rather, down, diagonally and across) the periodic table."
NSTA Outstanding Science Trade Books 2021: "A marvelous overview of the elements with clear explanations, delightful historical details (cobalt was called "goblin metal"), and descriptions of modern uses. This book is an essential guide for classrooms and budding scientists."
The Book Mommy 2020 Gift Guide: "Color coded by similarities, each of the 118 chemical elements is given due attention—many of them across double spreads—from its letter symbol and atomic number to key properties, where it's found, its atomic makeup, why it behaves as it does, and one to two robust paragraphs on its significance to humans and the natural world, written with Thomas' characteristic insight, awe, and clarity. Whether your teen reads it straight through or pages through it on periodic whims, you're going to have a hard time removing this from your coffee table."
About the book
This artful and accessible guide to the periodic table explores all 118 chemical elements, helping young readers understand the remarkable ways in which they build both the natural and human world. Graphically stunning layouts feature each element's letter symbol and atomic number, exploring its attributes, characteristics, uses, and interesting stories behind its discovery. Complete with a comprehensive introduction, conclusion, and glossary, this is the perfect introduction to chemistry for inquisitive minds.
Exploring the book