Build Your Own Body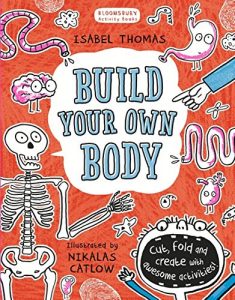 Bloomsbury, 2018 • illustrated by Nikalas Catlow
Packed full of fun and exciting projects which use its pages in different ways, this book will have you tearing, folding, cutting, experimenting and scribbling as you find out how your body works.
Discover the secret shared by all living things, make a dancing skeleton, and fold an ear trumpet to give yourself super hearing! You'll also become a fingerprint detective, learn to paint with food and make a moving robot hand.
Plus many more inventive and exciting activities based on the human body. Are you ready to Build Your Own Body? Put your skills to the test and let's find out!
Other titles in the series:
Self-Destructing Science: Space (shortlisted for ASE Book of the Year 2016)