This Book Is Not Rubbish
Wren & Rook, 2018 • 208pp • Illustrations by Alex Paterson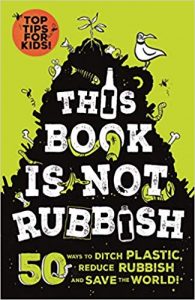 This book gives readers the knowledge to make a difference to the local and global environment. Not to mention a really good reason to eat more chips. It can't do all that from your shelf. So once you've put each page into action, spread the word by passing it on.
Pass it to a friend, family member, neighbour or school library. Pass it to your teacher or headteacher to get support for your projects. Pass it to a local politician and ask what they are doing to save the planet.
Because it's your planet and it needs all the friends it can get.
"Thomas's well-judged text suggests that making more sustainable choices is well within a child's reach – and also that children might well be in a position to learn more and do more than adults, and to pass on understanding to their families. The book's strong inherent sense of roll-up-your-sleeves agency dodges deftly around potential pitfalls of paralysing despair." – Imogen Russell Williams in the Times Literary Supplement
"Slightly older readers interested in conservation will devour Isabel Thomas's This Book Is Not Rubbish! (Wren & Rook), illustrated by Alex Paterson. Thomas writes in a can-do register with an underlying note of steel, laying out exactly why prompt environmental action is necessary, but emphasising the steps children can take – plastic-free birthday parties, washing up in one bowl of water – in a way that prompts enthusiasm rather than despair." – The Guardian