news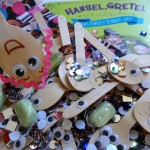 I had a fairy tale time at Cheltenham Literature Festival, running Fairy Tales with a Twist for a brilliant bunch of 4-7 year olds.
Three plucky volunteers helped me to tell the story of Hansel and Gretel, and we found out what happens when you pop traditional fairy tale props into a time machine set for 2015.
Then it was over to the creative children, who made modern versions of their favourite fairy tale characters, and decorated a life-sized gingerbread house. I finished by sharing my new picture book, Hansel, Gretel and the Dastardly Dinner Lady.
It was such a fantastic day – huge thanks to the Cheltenham festival volunteers and Curious Fox-ling Penny, who helped me tile a house in Haribo in a record-breaking five minutes, and dealt with the glittery aftermath of the show!