news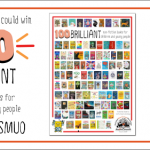 It's National Non-Fiction November – the annual celebration of adventures in the real world. Here are five ways to join in with the fun!
1) Win 100 non-fiction books in the mammoth non-fiction giveaway organized by the Federation of Children's Book Groups and World Book Day. Nominate a local school or youth organisation to win 100 of the best non-fiction books around. I'm very proud that 23 Ways To Be An Eco Hero is on the list!
2) Read the amazing collection of articles about non-fiction published this month on the FCBG Blog. Nicola Davies and I have both blogged about the power of narrative non-fiction to educate and engage.
3) Get children writing their own non-fiction books – this is a great way to engage reluctant writers. You'll find my top tips on the Oxford Education Blog.
4) Book a non-fiction author visit for your school or library. Contact An Author is a great place to look for local authors, and you can find out about my own non-fiction workshops here! I've developed a new workshop based on Self-Destructing Science: Space, which has just been shortlisted for the ASE Science Book of the Year Award.
5) READ AN AWESOME NON-FICTION BOOK of course! This month I've been enjoying the epic and evocative Madame Curie by Eve Curie (Da Capo Press), Leonardo da Vinci's Notebooks (Oxford), and The Particle at the End of the Universe by Sean Carroll (Oneworld). My boys have been digging into Story Worlds: Nature by Thomas Hegbrook and Patricia Hegarty (360 Degrees), the beautiful Natural History Book (DK), See Inside: How Things Work by Conrad Mason and Colin King (Usborne) and Computer Coding Projects for Kids (DK).

Where will your next non-fiction adventure take you?