news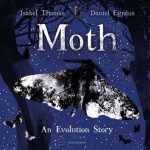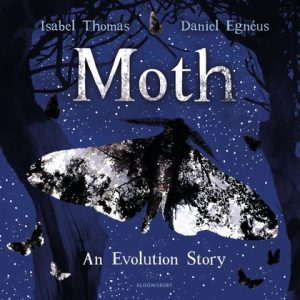 I was over the moon to see the most beautiful review for Moth: An Evolution Story in the Times Literary Supplement. In the US, Moth recieved starred reviews from Foreword, Booklist and The Horn Book, and was recommended by the Wall Street Journal. I've collected some excerpts from these and other reviews below!
Winner of the 2020 AAAS/Subaru SB&F Prize for Excellence in Science Books
"Moth by Isabel Thomas and Daniel Egnéus, published by Bloomsbury, is another picture book with inbuilt growing room, an introduction to the concept of evolution in language both scientific and poetic, full of thrill and peril. … Thomas's spare text and back matter elegantly develop the book's twin themes of survival and hope."
Financial Times Books of Summer 2018
"Subtitled "An Evolution Story", the book — both engaging and educational — traces how natural selection enabled the peppered moth to survive in a polluted world, its camouflage adapting over generations to suit its altered surroundings."
Belfast Telegraph / Herald Scotland / Northern Echo • Kids Book of the Week
"The bold graphics illustrate the story perfectly, and it ends with readers being urged to spot moths in the wild and engages them in a little more formal history of the moth. Perfect for nature-lovers to learn, without realising they are learning."
Centre for Literacy in Primary Education (CLPE) Corebooks, 2018-19
"Evolution seen in microcosm through the story of the peppered moth – speckled and freckled and a master of disguise. The poetic text, written by a scientist, combined with mixed media illustrations, demonstrates how this creature has survived through adaptation, responding to natural change and human intervention in the environment."
"This is a story of light and dark. Of change and adaptation, of survival and hope.' So says science writer, Isabel Thomas in the opening lines of her narrative, a narrative that seamlessly interweaves both science and social history. Daniel Egnéus' illustrations are as lyrical as the text, embodying at once arresting beauty and veritas, and instilling a sense of awe and wonder. It's rare to see such an eloquent science-focused book that also embraces the arts side of the curriculum."
South Wales Evening Post
"A visual spectacular that is a fascinating introduction to the extraordinary resilience of our natural world."
Early Years Education Magazine

"Before we can get on to the story, can I just say 'wow', what a beautiful front cover, it is stunning, a real showstopper. … It is not a science book by any means, it is a well-paced, interesting and factual book that not only explains the lifecycle of the Peppered Moth, but how humans affect the natural world, for worse and sometimes for the better. … It teaches us that the natural world is a fascinating and remarkable place."
WRD magazine
"A stunning narrative about the peppered moth. It is a great introduction to evolution and natural selection and the artwork is wonderfully graphic with splodges of paint and pattern. Fascinating, beautiful and informative."
Bookwagon

"Isabel Thomas's direct, informative text fits perfectly with the luminous, evening jewelled pictures of Bookwagon favourite illustrator, Daniel Egnéus. 'Moth' is a truly magnificent title that merits a place on every bookshelf."
"This is a striking picture book that uses the story of a moth to demonstrate how animals can adapt and evolve over time. … This book illustrates the concept wonderfully for young readers through its stunning illustrations and lyrical storytime language."
"The Industrial Revolution has never been portrayed better than this. Isabel Thomas's text is superb, simple yet telling. A perfect introduction to Natural Selection for children, and a timely reminder to adults on the effects humankind has on the environment of all the species that inhabit our planet. The best sophisticated picture book of the year in my opinion."
"Here at GeekDad we do love a picture book. If it can be entertaining and educational, then so much the better. Moth: An Evolution Story by Isabel Thomas and Daniel Egnéus most definitely falls into this category. The simple text complements the striking illustrations making for an excellent package that will introduce the concept of evolution for ages 4 upwards."
Highly recommended. This amazing book shows within easily understood language supported by the most powerful of illustrations, the ability of an insect to adapt to the blight of man's impact upon the world.
Isabel's words sing with truth, reflecting her background in genetics and evolution at Oxford University, while Daniel's illustrations display a confidence with illustrative techniques which can be seen across a variety of fields.
Blog of Dad
"Moth is a unique and powerful picture book telling the story of the evolution of the peppered moth. Stunningly illustrated and well told for a child audience, Moth a wonderful introduction to Darwin's theory of Natural Selection. A truly special, insightful and uplifting picture book."
School Reading List Picture Book of the Month