Fox: A Circle of Life Story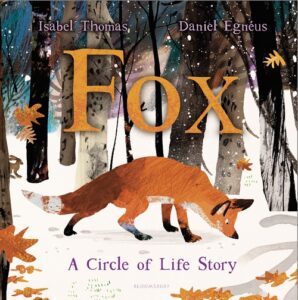 Bloomsbury • Illustrated by Daniel Egnéus

• Nominated, Kate Greenaway Medal 2022
• Longlisted, UKLA Book Awards 2022
• Starred reviews from Kirkus, Booklist and The Horn Book
Fox: A Circle of Life Story is the follow-up to the award-winning Moth: An Evolution Story. written by Isabel Thomas and illustrated by Daniel Egnéus.
"For five-plus, from Isabel Thomas and Daniel Egnéus comes the poignant, essential Fox: A Circle of Life Story (Bloomsbury) … Thomas's simple, direct language, with just the right degree of poetic resonance, pairs powerfully with Egnéus's rust-vivid, atmospheric images; this is the perfect book for talking to children about death." – The Guardian
Fox: A Circle of Life Story answers the big scientific question: What happens when we die?
I launched the book with a discussion on BBC Woman's Hour, about my experiences of talking to my own children about the science of death as a part of nature and life.
In the frost-covered forest of early spring, fox is on a mission to find food for her three cubs. As they grow, she teaches them how to survive in the wild. Until one day, fox dies. Her body goes back to earth and grass and air, nourishing the world around her and bringing the forest to life. Death is not just an end, it's also a beginning.
You can listen back to my BBC Woman's Hour discussion here:
Science writer @Isabelwriting on talking to children about death and giving a scientific answer to one of the most difficult questions children ask: 'What happens when we die?' https://t.co/quKc8fL8hl pic.twitter.com/WiFtb3DUSy

— BBC Woman's Hour (@BBCWomansHour) September 30, 2020
Bringing together an evocative non-fiction narrative with breath-taking illustrations, this book will help parents and children to talk about life and death. It introduces the scientific concept that death leads to new life, and that this way of understanding the world is no less beautiful and awe-inspiring than traditional stories.
Where to find a copy of Fox: A Circle of Life Story