news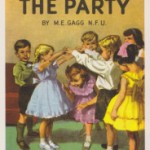 This weekend, I threw a party for 30 five-year-olds. Call me naive (and many parents did) but this was the plan:
The reality was less Oranges and Lemons, and more like riot control.
At least I had plenty of time to think about this blog, as I re-rolled 105 metres of toilet tissue (first rule of riot control: never suggest playing 'wrap the mummy').
I was equally naive when imagining life as a full-time writer.
In my head, writing was The Perfect Job to fit around children: serene days at my desk; short breaks for coffee and chores; an early finish for the school run.
In reality, life feels just as frantic as it did when I commuted to an office. Writing eats time, and the more you give it, the greedier it gets. I sit down, become absorbed, and suddenly the day is over. Sometimes, it was over 15 minutes ago and that distracting noise is the school ringing to remind me.
Psychologists call this flow: concentration so intense that everything else falls away. There's a great TED talk about it here and this article explores the science.
For me, flow is the best and the most challenging aspect of life as a writer.
Flow heightens creativity and makes you happy. The ability to not just ignore housework but forget it even exists is fantastic for my word count. But it can be hard to snap out of it afterwards.
I reach the school gates like this…
… dazed, wide-eyed, a bit disconnected. Unable to predict the consequences of feeding 30 children Haribo and asking them to take turns on a bouncy castle.
My short-term memory is biroed on the back of my hand, and I'm useless with names unless I'm writing about them. Right now, I can list more 19th-century doctors than guests at that riot.
I also blame creative flow for my failure to finish unpacking a year after moving house. For the toy soup in the playroom. For a laundry mountain so big, my children outgrow clothes before they are washed.
I worry that one day I'll look up from reworking a sentence, and find three feral boys climbing the curtains, having raised themselves.
Actually, that won't happen. I haven't got around to putting up curtains yet.
Originally published on Author Allsorts
Owl photo by Calvin Smith, cropped under Creative Commons License 2.0