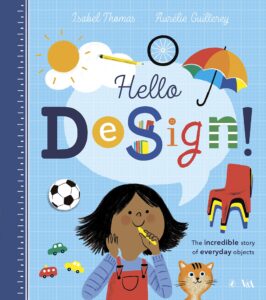 Puffin, 2020 • Illustrated by Aurélie Guillerey
This book began with one of my favourite ever research projects – several days roaming around the V&A Museum – the world's largest museum of art and design – and its sister museum, the V&A Museum of Childhood.
My mission was to seek out examples of quirky, playful design through the centuries that would capture children's imagination. From furniture to food, toys to transport, no object was left unturned!
Shortlisting was tricky – luckly I had the help of the brilliant Penguin editor Emily Lunn, and the V&A team. The next step was to weave them into a narrative about design in everyday life, as encountered by one girl and her aesthete cat!
Then it was over to Aurélie Guillerey, who wove each object into everyday scenes, taking these stunning pieces out of the museum and back into everyday life. We've also packed the book with playful prompts, to get readers having a go at design themselves!
The blurb
A design can be as small as a toothbrush . . . or as BIG as a skyscraper. Every design starts in someone's imagination – an imagination just like yours.
Travel through one day and discover how the world around you has been designed – even though we don't always realise it! Question HOW everyday items have been designed, and WHY they look the way they do.
Guaranteed to make you see the world a little differently, pick up your pencil and imagine your own designs. What will you design?
With facts and questions to inspire all budding designers and get creative minds whirring – and featuring iconic designs from the enthusiasts at the V&A.